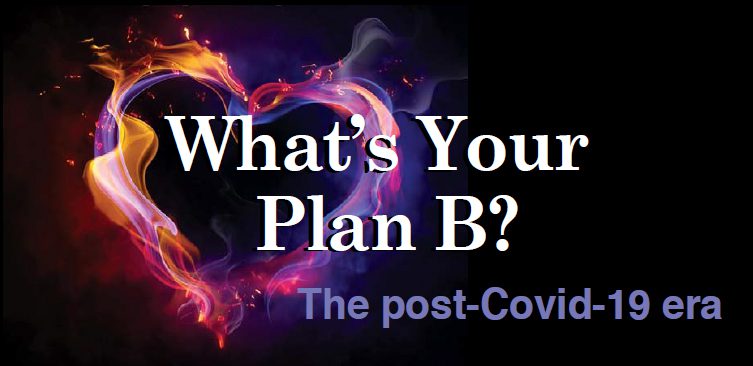 Creating Your Company's Plan B
in the Post-Covid 19 Era
There's no question things have changed more rapidly for your business in the past three months than in the past three years!
One of the key questions every business now must answer is this: What's your Plan B for doing business in the post-Covid-19 era? It goes without saying that every business needs to have a Plan B because the way it was just won't work in the future. That's the harsh reality every business must face going forward. There are no exceptions.
Without a Plan B, your business won't survive! It's that simple. Why? Because your people – employees, customers and suppliers – have changed their expectations, priorities, and the way they live! Your immedi-ate focus and, therefore, your highest priority right now must be your People. Without capable employees who are ready to serve your custom-ers and suppliers in what we've labeled as the "New Abnormal" era, your business will struggle and fail.
To help develop your Plan B, this article will share a few strategic questions from our 5 Ps of Culture model to help you rethink some key factors that must be addressed as you plan to reopen your business. We strongly encourage our clients to use this template to start their discussions on how to reimagine and redefine their businesses. The 5 Ps of Culture model will help your company address most major concerns and create a competitive edge for the future.
The 5 Ps we use at CRI Global CAPS, LLC are:


Purpose, Principles, People, Processes, Performance
Purpose: As you evaluate your Purpose for being in business, consider these factors that are affecting your business environment:
Is your business model "People-focused" or profit-driven?
While profits are essential, the immediate survival and long-term profit-ability of your business hinges on the safety and well-being of your em-ployees, customers and suppliers.
While many businesses will be forced to make changes because of new government regulations, every business must rethink how it protects people regardless of your industry. We encourage clients to reexamine their Purpose to make sure they are "people-focused" and not limited to making a profit. Your people need to know your highest priority is their safety and well-being. Once they understand this is your highest purpose, they will support your revenue goals.
Principles: What does your company stand for? What are your guiding principles and values? Has your company re-evaluated its Principles in the context of the Covid-19 pandemic?
While many of your principles and values will remain the same, it's import-ant to ask the question because – consciously and subconsciously – you can be sure your employees, customers and suppliers are evaluating your business based on your current principles and values. Do those Principles favor your people, or do they favor your bottom line? In this highly volatile economic time, don't make the fatal mistake of putting profits ahead of your people. You will lose bigtime!
For example, one of the core principles that we encourage our clients to embrace is Emotional Ties to your people. In recent years, most major companies have done a good job of creating closer bonds with their customers through enhanced customer contact via websites and email campaigns, training employees in the art of superior customer service tactics, revised shipping and return policies that favor consumers, and building strong customer loyalty through incentive programs and discounts. But now, this core principle must be redefined in terms of deal-ing with customers who have learned to shop online and don't require face-to-face contact in your stores because the new abnormal is a world in which many of your customers prefer to avoid crowds and shop online instead of going to the mall.
The principle of Emotional Ties also impacts how you will manage those employees who want to continue working remotely and can perform their jobs without coming into an office that might present health risks. How do strengthen your emotional ties with those employees who work remotely and create a sense of teamwork? Also, how will all these changes impact your corporate culture?
People: As you reimagine your workforce in a post-Covid-19 era, what changes need to be made to how your employees work and remain engaged?
Two major questions we've posed to executives are these. First, since many of your employees have been working from home and adapted to their new work environment, how do you reengage and re-orient your people who return to an office environment, and ensure their health and safety? The new abnormal is while many people are anxious to return to a workplace, there is a very high percentage of employees who've discov-ered they can do their jobs from home and be more productive. So, this presents a series of challenges for companies that rely on having their em-ployees on site, teamwork and creating a sense of unity at the workplace.
Secondly, what about those employees who are over the age of 50 and have personal health concerns? Will they be forced to work in an office or factory environment where their health might be at risk? This includes many hospitality and airline employees as well as healthcare workers. These are serious questions that impact your employees and directly affect the health and safety of your customers and suppliers.
Processes: The fourth P – Processes – focuses on the changes you must institute in order to do business in this new abnormal era. What Processes must you change in order to be successful?
We've already witnessed major shifts in how grocery stores, fast food restaurants and even houses of worship have changed their processes to accommodate their employees and customers. Changes must also take place in every other industry where employees interact face-to-face with their customers and suppliers. And, these changes need to win the approv-al of your customers. So, your business needs to survey customers to make sure they feel safe and protected. If they don't, you need to rework your Processes until you get it right!
One of the most obvious and significant changes we've already seen are the new social distancing standards and rules. Most customers and em-ployees expect your business will implement social distancing processes that ensure their safety and well-being. This will require your company to rethink every aspect of how you do business and reconfigure those mo-ments-of-truth in which employees, suppliers and customers come into contact with each other.
For example, does your business have the necessary protective garb or plexiglass in place to protect workers and customers? Are your restaurant menus disposable? Are your vending machines and water coolers sani-tized? Have you made the necessary changes to your food service opera-tions or addressed the many processes that affect food trucks that arrive daily at your office building? What about meetings and conferences? Also, what about the air quality in your offices and factories, or the spacing of passengers on your airplanes and at the airport or TSA lines? These are all factors that relate to your current and future Processes and how those Pro-cesses must change in the post-Covid-19 era.
Performance: We advise our clients that their financial performance and customer satisfaction ratings are directly linked to how well they address the other four Ps. If you can successfully address your Purpose, Principles, People and Processes then the chances of generating more revenue, stronger profits, and higher customer satisfaction ratings will be greatly enhanced.
The importance of your company generating positive online customer reviews and higher customer satisfaction ratings has never been more critical to its success. We have become a society that is heavily influenced by "what other people think and say about a product or service." So, your company's reputation, and its continued success, depends on how well you perform for your customers and employees.
As one CEO told us, "The customer is now back in charge and we need to be everything they want us to be if we expect to keep their business!"
Truer words were never spoken. As you move forward, you need to develop your Plan B and be sure it addresses the 5 Ps of Culture.
About the Authors: Tom Hinton and Barbara Yager are principles at CRI Global CAPS, LLC, a San Diego-based international training and consulting firm that helps clients create a culture of excellence in the workplace. They are the co-authors of the Amazon best-selling book, The Heart and Soul of Culture: How to Save Your Bottom Line by Making the Transformation to a Conscious Business. For more information, visit: www.CRIGlobalCAPS.com